Work, employment and society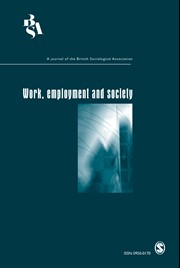 Journal Details
Frequency: 6

 issues per year 

 

(February, April, June, August, October and December)

Editors in Chief: 

Andy Danford and Melanie Simms, University of Leicester

Editors: Vanessa Beck, Paul Brook, Ian Clark, Bob Carter, Nik Hammer, University of Leicester and Shireen Kanji, University of Birmingham
"Work, employment and society has established itself as the international journal for studies of the organization of labor and labor movements.   It has encouraged innovative approaches to work and society in diverse regions of the world.  It has supported wide range of methodologies and theoretical frameworks.  It has kept alive and flourishing the great British traditions in the scholarship of work and employment."
Professor Michael Burawoy, University of California, Berkeley, USA
"Work, employment and society is an outstanding international peer-reviewed journal in the area of sociology of work, employment, employment relations . It offers a very rich and valuable international perspectives on current topics on work and industrial relations covering every aspect of the employment relationship and labour markets. Moreover, it engages strongly with high quality theoretical as well as innovative and original empirical and methodological work. The editorial board has an excellent reputation and it consists of a variegated high quality number of different referees from outstanding academic institutions in the United Kingdom, Europe and abroad."
Professor Valeria Pulignano, University of Leuven, Belgium
Published six times a year by SAGE Publications, this leading journal deals with, and encourages the further exploration of, the complex interrelations of all divisions of labour.
It pays particular attention to contemporary developments and their effects on different forms of work. Recent issues have covered cross-national perspectives on work organisations, different routes to industrialisation, and employment in the home.

Members of the BSA receive either Sociology or Work Employment and Society as part of their membership benefits package. They can also opt to receive the other journal at a reduced rate.  BSA members are also entitled to subscribe to the co-owned BSA/SAGE journal, Cultural Sociology, at a significantly reduced rate.
For a statement regarding the roles and responsibilities of Editorial Team, the Editorial Board, Associate Board and the International Advisory Board, as well as the selection criteria and procedures, of BSA Journal Work, employment and society, please refer to the BSA Journal Terms of Reference.