Sociology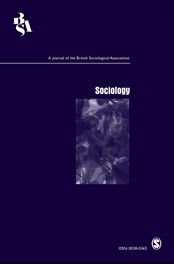 Journal Details
Frequency: 6 issues per year (February, April, June, August, October and December)

Editors: 

Karim Murji, Sophie Watson and Kath Woodward (The Open University), Andy King (University of Surrey) 

and Sarah Neal (University of Sheffield)
"Sociology is a key journal in the discipline, representing not only the United Kingdom, but an international scope and perspective, with authors and reviewers from a range of backgrounds and locations.  The editors have been very good to work with - a solid and thoughtful review process, excellent choices.  It has been and continues to be a pleasure to work with them in support of their fine work."
Professor Barbara Katz Rothman, CUNY, USA
"Sociology as the flagship  journal of the BSA makes an enormous contribution to  the development of the discipline, sociological debates, creativity and ideas. The anniversary editions of the journal are a 'must read' reflecting the strengths of and challenges for sociology in contemporary times."
Professor Maggie O'Neill, University of York, UK
Sociology is acknowledged as one of the leading journals in its field. For more than four decades, the journal has made a major contribution to the debates that have shaped the discipline and has an undisputed international reputation for publishing original research of the highest academic standard.
The scope of Sociology is wide ranging - both geographically and substantively - and it includes shorter notes, comments, reviews of recent developments and book reviews as well as core theoretical and empirical research papers. It also publishes occasional special issues principally devoted to particular themes.
Members of the BSA receive either Sociology or Work Employment and Society as part of their membership benefits package. They can also opt to receive the other journal at a reduced rate.  BSA members are also entitled to subscribe to the co-owned BSA/SAGE journal, Cultural Sociology, at a significantly reduced rate.
For a statement regarding the roles and responsibilities of Editorial Team, the Editorial Board, Associate Board and the International Advisory Board, as well as the selection criteria and procedures, of BSA Journal Sociology, please refer to the BSA Journal Terms of Reference.