BSA Peer Review
Commitment to High Quality Research Publications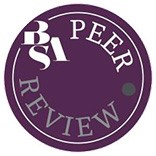 Peer review is the process used by many scholarly journals to assess the value research articles – the analysis, methodology and conclusions. Is the research sound? Does it add to our understanding of a particular topic? Are the points clearly expressed? Peer review has an essential role to play in ensuring the quality of research and scholarship. All BSA-affiliated journals, Cultural Sociology, Sociological Research Online, Sociology, and Work, employment and society, apply rigorous primary (before publication) peer review processes to all published articles. All Editors and peer reviewers are committed to high standards of peer review.
Rigorous
All research articles published in BSA journals have been peer reviewed by at least 2 reviewers. Whole articles are reviewed.
Skilled
Peer reviewers in BSA journals are individuals with expertise in their subject area and experience of peer review and journal article publication. Editors may seek a variety of perspectives on an article ensuring a balance of voices and considerations. Peer reviews may be from subject experts as well as those with a generalist perspective to comment on the article's reach to a broad audience.
Peer reviewers for BSA journals are given guidance on reviewing. The BSA also offers periodic training sessions on good reviewing practices at our BSA Annual Conference. Some BSA journals also have Associate Boards reviewers. These Boards are open to those who are building their experience of peer review.
Constructive
Peer review in BSA journals aims to provide critical and constructive for authors; we aim to help authors improve their papers whether they are destined for publication in a BSA journal or elsewhere.
Anonymous
Peer review in BSA journals is fully anonymised, meaning neither the author nor the reviewers know the identities of the others. This style of peer review helps to encourage reviewing based solely on the quality of the article.
Timely
BSA Journals aim to notify authors of a first decision within 8-12 weeks of submission. We aim to give authors feedback on their papers as soon as possible while also recognising that a considered, helpful review takes time and that this is our primary focus.
Transparent
BSA Journals publish the names of their Editors and Board members. Where there is no risk to the anonymity of reviews, some of the journals periodically publish the names of those non-board reviewers who have provided reviews in order to express our thanks for their efforts.