Cultural Sociology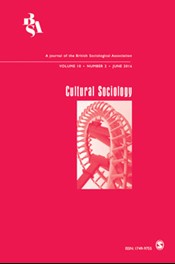 Journal Details
Available to BSA Members for the reduced rate of £23.

Frequency: 4 issues per year (March, June, September and December)

Editors: Ming-Cheng Lo (University of California, Davis), Rin Ushiyama (Queen's University, Belfast), Nadya Jaworsky (Masaryk University), Marcus Morgan (University of Bristol) and Christopher Thorpe (University of Exeter)

Advisory Editor: David Inglis (University of Exeter, UK)
Good news for BSA members!  This journal is available the reduced rate of just £23 per year. Order direct from 

SAGE Publications

.
The BSA and Sage were delighted to launch their new jointly-owned journal, Cultural Sociology.  Here the editor, David Inglis, explains the nature of the journal, the field it will represent, and what it will be seeking to achieve.
'Culture' has always been a key issue for sociology, right from its very inception.  Themes such as religious beliefs, norms and values, the motivations for individual actions, socialisation processes - all of these 'cultural' phenomena have been at the heart of sociological investigations of human life, both in the period of the classical sociologists and throughout the twentieth century.
However, in the last two decades or so, partly under the influence of the so-called 'linguistic', 'postmodern' and 'cultural' turns, cultural processes and artefacts have come to be particularly central in sociological thinking and research, both in the UK and in many other national settings.  There has, for example, been a proliferation of courses, both undergraduate and postgraduate, centred around 'cultural' themes, dealing with everything from 'urban cultures' to the globalization of cultural production and consumption.  Even within courses dealing with already established pedagogic themes, such as contemporary social theory, there have been an identifiable series of shifts towards more systematic engagements than was the case hitherto with 'cultural' issues, such as the analysis of identities, consumption and practices of self-styling.
The fact that Bourdieu's magisterial work of sociology of culture, Distinction, frequently tops polls of the most influential works of sociological analysis, is a telling case in point here.  Whether or not one is sympathetic to such trends, it is undoubtedly the case that in Britain, and elsewhere, the word 'culture' today denotes more firmly than ever issues and concerns that are difficult for the sociologist to ignore.
It is within this fertile context that the BSA has joined with Sage to launch the journal Cultural Sociology.  While 'culture' has, as outlined above, become a central aspect of sociological inquiry in the present day, it is remarkable that hitherto no journal has been developed to cater fully for the needs of those authors and teachers working in the area of empirically-oriented cultural sociology and sociology of culture.  While there do exist a number of high quality journals specialising in 'cultural studies' and 'cultural theory', there has not been a journal which takes as its central remit the publication of excellent empirically-informed work on culture from explicitly 'sociological' angles.  Cultural Sociology is intended to fill that gap in the intellectual market, providing we believe the first choice port-of-call for those wishing to publish and to read about ongoing researches in the sociological study of cultural processes.  The key aims of the journal include:
consolidating and developing the field of cultural sociology/sociology of culture in substantive, theoretical and methodological terms, and acting as an important organ of self-consciousness for these areas of sociology;

facilitating dialogue between authors and readers working within different areas and different traditions and paradigms of cultural sociology/sociology of culture;

promoting the field of cultural sociology/sociology of culture both within sociology and in other disciplines, such as cultural studies, gender studies, and post-colonial and ethnicity studies;

encouraging contact and co-operation between cultural sociologists/ sociologists of culture in a wide variety of national contexts, thus being a truly 'global' intellectual enterprise. Bridges very much need to be built, for example, between North American 'cultural sociology', and UK and European 'sociology of culture', and the journal will be an ideal vehicle for encouraging such forms of rapprochement.
If you have any questions about any aspect of the journal, please do not hesitate to contact the Editorial Team.
For information on the roles and responsibilities of Editorial Team, the Editorial Board, Associate Board and the International Advisory Board, as well as the selection criteria and procedures, of BSA Journal Cultural Sociology, please refer to the BSA Journal Terms of Reference.