Speak up for Sociology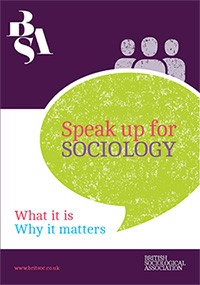 As the national subject association for sociologists in Britain, we are keen to support sociology students as much as possible in the early stages of their studies.
We feel strongly that sociology is a key subject at undergraduate level and we want to help others see it that way too. Undergraduate students are the future of our discipline and the leaflet, Speak up for Sociology, will help students celebrate and defend their choice of subject while also providing possible career choices.
Printed copies are available to all universities via the BSA Office, alternatively download your copy now.
If you have any queries, or would like more information on Speak up for Sociology, please contact the BSA Office.