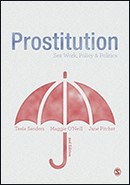 This month we have five copies of Prostitution - Sex Work, Policy & Politics edited by Teela Sanders, Maggie O'Neill and Jane Pitcher – ready to giveaway.
The field of sex work has undergone a massive expansion in the past ten years. In this new edition, three leading researchers come together to provide an interdisciplinary outline of sex work. This book provides comprehensive coverage of key areas common to the study of the female sex industry, as well as considering issues relating to male and transgender sex workers, young people who are sexually exploited, and migrant sex workers. It also includes discussion of more recent forms of commercial sex such as Internet-based sex work.
International in perspective, Prostitution combines sociological approaches with criminology and criminal justice studies, social policy, health research and sexuality studies. New to this edition:
Updated summaries of policy and law, particularly in relation to UK legal changes from 2008 onwards
Methodological insights and discussions on ethics, fieldwork and participatory action research
New images and case studies from the authors' research projects
If you are interested in receiving one of these free copies, please email Claire Simmons with your name and postal address and we will pick five winners at random in March. Please note that you must be a BSA member to enter this book draw. If you aren't a member and would like to find out how to become one and see what other benefits are available to you, please visit the Membership section on the BSA website.
Thank you to everyone that entered last month's free giveaway, Higher Education & Social Inequalities edited by Richard Waller, Nicola Ingram and Michael Ward.  We are pleased to announce that the five winners were Teresa Crew, Martin Kemp, Lynda Korimboccus, Carli Ria Rowell and Sophie Smith. Congratulations to you all.