By Linda McKie, BSA Trustee and Director of Public Engagement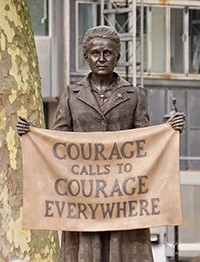 The unveiling this week of the statue of Millicent Garrett Fawcett in Westminster, and in the year we recognise the centenary of UK women's partial voting rights, marks a truly great moment positioning feminism, and women's rights in public spaces. That this space was solely occupied by men until Tuesday, 24 April 2018 is worthy of reflection. 
Gillian Wearing's statue illustrates the everyday and long term fight for women's rights. Fawcett is holding a banner with the words 'Courage Calls to Courage Everywhere', text from a piece written about the suffragette Emily Wilding Davison who died after running onto the Epsom racecourse during the Derby in 1913. That women died securing the right to vote is a sacrifice often taken for granted. Statues too, can be taken for granted. How many of us stop and look at them as we go about our everyday lives? Wearing's use of the banner draws us to the words and to query the provenance and relevance of these words. Powerful stuff. And a draw for the eyes and the mind which Fawcett would likely have admired. The foundry cast makes Millicent Fawcett's outfit look and feel like tweed; the everyday clothes of a woman of her time and class.
Gillian Wearing has commented that much of her work is about exploring the inner lives of outwardly ordinary people. Her statue does bring Millicent Fawcett to the attention of many walking across Westminster and in ways which suggest campaigning for human rights is an ongoing and everyday pursuit.
Yet in many ways Millicent Fawcett's life was anything but ordinary. Her extraordinary drive to pursue women's rights favoured non-violent protest and she worked up until her death in 1929 for recognition of the work and role of women in creating, developing and sustaining the everyday. She was also passionate about the role women did, and could play, in international politics. In 1902 she led an all-female investigation into the condition of British concentration camps set up in South Africa during the Boer War.
Caroline Criado Perez was running across Westminster in 2015 when she noticed that all the statues were of men. Like the campaign to have women recognised on bank notes, her energy resulted in the commission for this statue. At the ceremony to unveil the statue she commented "She's (Fawcett) directly facing Parliament with her placard, so the MPs can see her everyday and think 'I should probably go and sort that problem out'."
As sociologists working in 2018 we continue to develop ideas and research to examine the everyday, not least how groups engage across societies. We also work in a context of trends in politics and policies which present challenges to free speech. The suffragists and suffragettes said what they wanted to say - what they felt needed to be said - and resisted pressures to censor their ideas.  This momentous statue reminds us that the process of change and promotion of rights is an ongoing challenge.